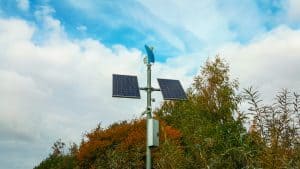 ILAND GUARD uses the latest technologies appropriate for each client. ILAND GUARD uses pole-mounted Analytics-equipped cameras, tethered drones, drones and long-range thermal cameras.
(insert image of tethered drones and pole-mounted cameras)
Isolated locations with pole-mounted cameras include solar panels which provide sufficient power for the cameras to work.
System planning and set-up
ILAND GUARD cooperates with installers around the world to achieve the best result for their clients. ILAND GUARD's secret sauce is the correct design and planning of a security system for the customer in terms of camera type and configuration for each location's unique setting, not necessarily the easiest place to set up the cameras.
ILAND GUARD's installs the highest quality observation, communication equipment and remotely-managed industrial communication equipment available on the market to quickly address problems.
System maintenance
Maintaining proper and up-to-date security systems very important allowing the control room to work continuously without interruptions or malfunctions of the system's transmissions to and from the control room. ILAND GUARD maintains the security systems and cameras following the periodic version updates, real-time fault handling, settings, optimization, and analytical diagnostics of the control systems both in-house and remotely.